117A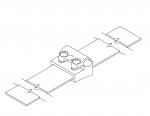 Cast bronze clamp and 18″ Tite-Grip copper
strap for bonding to pipes up to 4″ diameter. Strap
(IP-49Y) is shaped around pipe. Casting is positioned within 1/8″ of pipe and screw is tightened on flat
part of casting. Screws on beveled edge are
tightened to draw strap tight. Other length straps
available upon request. Wt. 1.21 lbs. each.
| | | | | | | | | |
| --- | --- | --- | --- | --- | --- | --- | --- | --- |
| 22 | 28S | 32S | 40 | 21 | G3 | A22 | A28 | A30 |